Daniel Buren- 1992 - 1993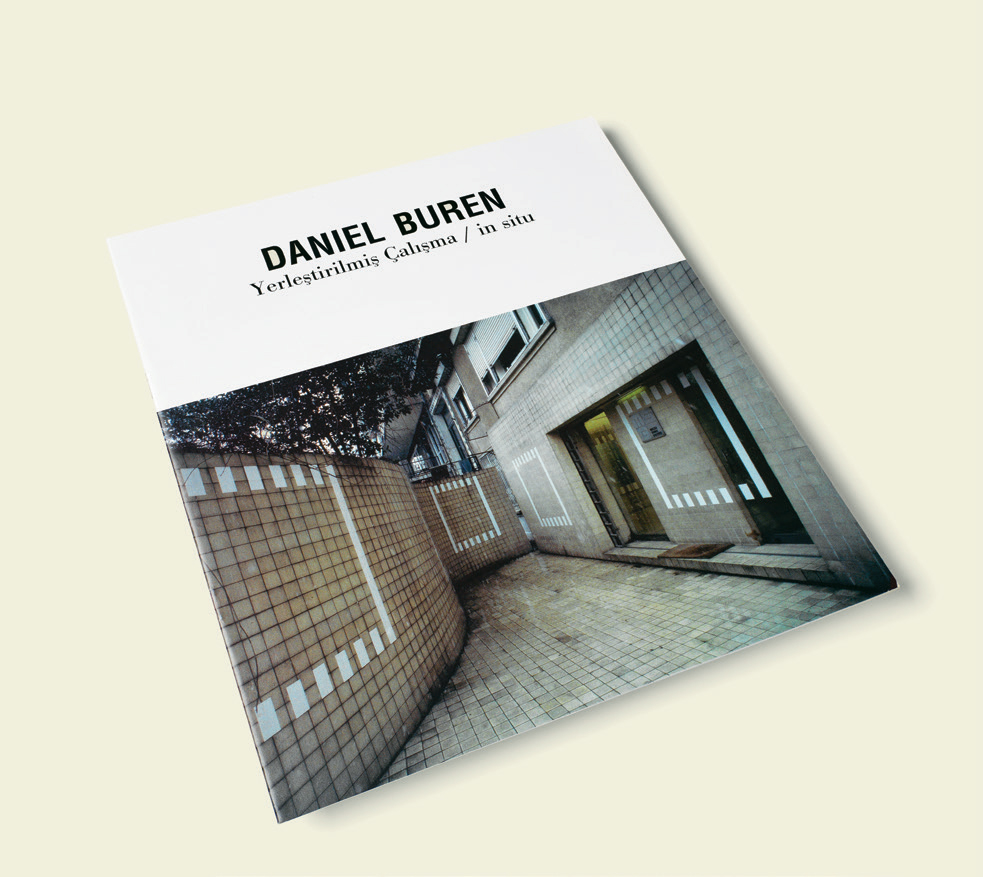 "A Work Installed / In Situ"
(26 January-27 February 1993)
In his first exhibition in İstanbul, Buren used 16 frames for his installation. During the exhibition, Buren held a conference about his works in Mimar Sinan Fine Arts University via MAG.
Catalog: Daniel Buren's text.
Articles about the exhibition:
Anonymous, "Daniel Buren Mekanla İç İçe",

Arrademento Mimarlık magazine, April 1993.

Beral Madra, "Sanatçıyla Kentsoylunun Oyunu",

Cumhuriyet newspaper, 13 February 1993.

Anonymous, "Mekanın Kendisi Sanat Yapıtıdır",

Cumhuriyet newspaper, 2 February 1993.
"First of all, I want to talk about the structure of the gallery. The 'strangeness' of the gallery surprised me. At least fifty years ago, what all the galleries in the world tried and succeeded in was to become a kind of stereotypical white cube. Maçka Art Gallery, on the other hand, was completely colored (a kind of light caramel), the walls from the ceiling to the floor and the outside of the gallery covered with hundreds of tiles. You could reach the place covered with colorful ceramic tiles from one end to the other by taking a few steps down a sloping road. I did not know whether such a formal decision was made because of ignorance of the general trend or, on the contrary, whether it was a strong decision to oppose and resist general acceptance. Regardless, such an exhibition shell setup was not regulated for me. After that, it wasn't that easy; Touching the walls, changing the walls, painting the walls, even hammering nails into the wall was not easy. When I was invited there to exhibit – after I was introduced to Rabia Çapa by Sarkis, the child of the country – my first impressions, both visually and physically, were being surprised. It was January 1993. Of course, as you can imagine, instead of being disappointed, such an unusual setup (unusual even today, by the way!) evoked my imagination; also, it was realized how difficult the place was for the majority of artists. As a result, I based my entire intervention on playing directly with tiles, in convertible sizes that will be tracked inside and outside the gallery. Such a background standing in the middle of my multi works, allowing me to make this unique exhibition with its visual characteristic…The existence of such a space is directly related to its enabler: Rabia Çapa. She is without a doubt a true pioneer in Turkey and the person who introduced international artists in the center of Istanbul before the Biennial was born. The spirit she gave to such a gallery will remain as a kind of example. Without following the trends of the period, working enthusiastically just like a guide and adopting great generosity as a normal behavior... … A kind of aristocratic intellectuality is no stranger to Rabia's elegant charm. I learned a lot from her. Rabia was the main source of my interest and curiosity for a beautiful city like Istanbul and the people of Turkey in general; also, for me to explore the country. 40 years of solid success. I believe that such a place should remain in everyone's memory as a 'sacred stone' in the history of art in the last 40 years. It should be remembered by everyone that this gallery is at the beginning of the development of contemporary art in Turkey. For this reason, and because of everything that happens between these walls, MAG will live on in our memories forever."
Daniel Buren (08.05.2016)